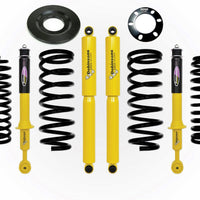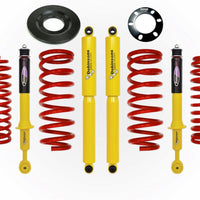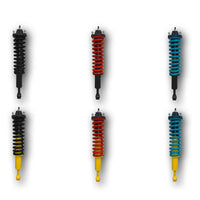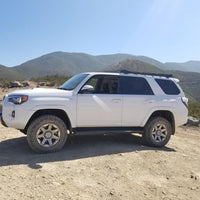 Dobinsons - 1" to 3.5" Lift Kit Toyota 4Runner 2010+ (KDSS)
Dobinsons offers this complete 2.0" to 2.5" suspension system for the 2010 to 2021 Toyota 4Runner 5th Generation 4.0L V6, designed for trucks with KDSS sway bar system (uses different rear coils).
Features 
All rear heights are measured on a vehicle with 3rd row seating

Complete suspension kit for 4x4 Off Road Use, fine tuned to match the vehicle

Coils are specifically suited to the additional accessory load (weight) on the vehicle

Nitrogen Gas Charged Shocks, Superior Design, thicker walls, longer travel

High Quality Australian-made coil springs, heat treated, fully scragged, powder coated

Includes 2 Front Struts, 2 Rear Shocks, and 4 Coil Springs

IIncludes front and rear spacers to correct lean
Designed, developed and tested in Australia by Dobinsons Spring & Suspension, in-house suspension design engineers, our 4×4 shock absorbers and coil springs are designed and tested to perform in the harshest conditions right across the world. As we export to over 40 countries worldwide from their Australian head office, the importance of quality is at the forefront in the complete design and manufacturing process. This ensures every shock and coil spring can withstand the blistering heat and corrugations of the Australian outback right through to the subzero temperatures of a Russian winter.
Our Twin Tube Nitrogen Gas charged shock absorbers are made from the world's highest quality external and internal parts sourced worldwide. They provide a significant increase in performance over the standard shock absorbers. Our twin tube shock absorbers feature larger bodies, larger bores and increased valving performance to dramatically improve vehicle handling and control and reduces shock fade. We proudly manufacture the highest quality replacement coil springs for many different applications, complying to ISO9001:2008 international quality standards from our state of the art manufacturing facility in Central Queensland, Australia.
All Dobinsons™ coil springs are load tested and scragged 100% to eliminate subsequent spring sag. We also perform spring fatigue and hardness testing using in-house state of the art testing equipment.
**Our KDSS-specific coils are taller on one side to go onto the US passenger side (right side) to compensate for vehicle lean
Dobinsons Spring & Suspension™ established in 1953, is largely based on Leaf and Coil Spring Manufacturing and the supply of Suspension Components. With several generations of family ownership and experiences, Dobinsons has become one of the leaders in the Spring Industry in Australia applying the years of knowledge into their products. The success of the business has come about by providing quality products, acquiring and using technical knowledge and having the equipment to perform and provide professional service.