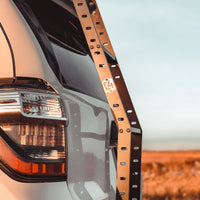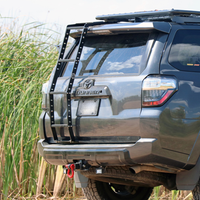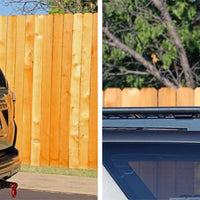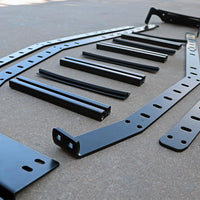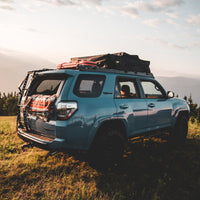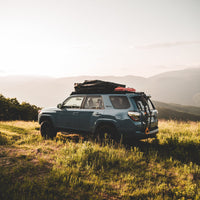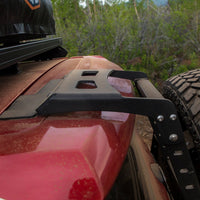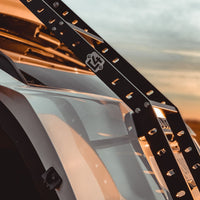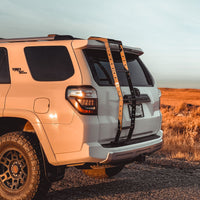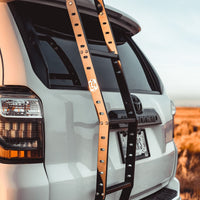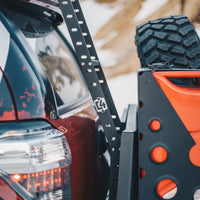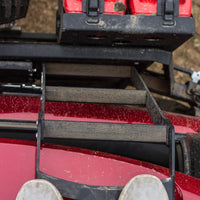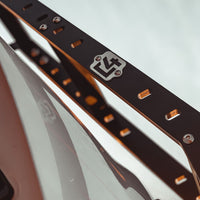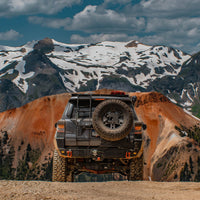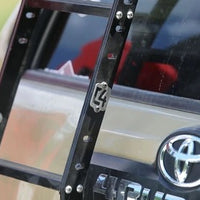 C4 - 4Runner Summit Hatch Ladder | 5th Gen | 2010+
Description

Videos

C4 Lead Times
All ladders & ladder parts come coated in Satin Black powder coat.
Ladders are known to be compatible with these roof racks:

 

Sherpa Equipment Co., Frontrunner Slimline, Prinsu Design, SSO, TMT, Echotechne, Toyota TRD Pro, ARB
100% bolt on, no drilling required!
Main structure and ladder steps made from aluminum.
Ladder mounting brackets made from 11ga steel.
Ladder side steps and RotoPax brackets made from steel.
Stainless steel hardware.
Main ladder steps made from extruded aluminum T-Slot.
Rubber tread strips included for a comfortable grippy stepping surface.
Slotted holes on each side of ladder frame make it easy to bolt on accessories.
Ladder ships un-assembled.
All add-ons are made from steel.
250lb static load rating.
20lb dynamic load rating.
Heavy duty hatch struts are not required for the base ladder by itself. HD struts will be needed if any accessories are added to the ladder.  Recommended hatch struts CLICK HERE
Below are the current estimated lead times for C4 products. Please feel free to contact us if you have any questions. 🤙
Front Bumpers - 11-14 Weeks
Rear Bumpers - 15+ Weeks
Bed Racks & Fuel Tank Skids - 7+ Weeks
Accessories - 2+ Weeks
Hi Clearance Add-ons - 6-8 Weeks
Skid Plate - 15+ Weeks
Rock Sliders - 10-14 Weeks
Ladders - 14 weeks
Please note: Front Bumpers/Rear Bumpers/Rock Sliders/Skid Plates that may require freight shipment are either shipped to the nearest freight hub or a commercial address with a dock. C4 does not currently ship to residential addresses. Shipments must be picked up from freight hubs within two days of delivery or will otherwise incur additional fees.
C4 Fabrication specializes in products for your Toyota Off Road/Overland vehicle. With over 15 years experience in the off road and manufacturing industry, you can trust that C4 products will be the absolute best choice for your vehicle.

100% designed and manufactured in the USA, C4 delivers the highest quality products in the Toyota Off Road/Overland industry. Our products are designed with both function and form equally. We believe that our customers want their products to look just as good as they perform. With that in mind the design team at C4 strives to create the best balance of both.

C4 is a trusted company that has been built on a reputation of extremely high quality products that are always delivered within the advertised lead times and fit great every time.
Whether you are an avid Off Roader, Overlander or just a weekend Adventurist, C4 offers a quality product that fits your application.
Customer Reviews
12/08/2021
Great looking ladder.
The item itself is exactly as described. Very nice looking alternative to the round pipe ladders we've seen on other vehicles. Be prepared to wait, and wait, and wait some more. 4wd Crews communication throughout was outstanding, never leaving me waiting for an answer longer than a few minutes, no matter what time of day or night I messaged, I would give the customer service a 20 of it wasn't for the empty ship date promises. We got the ladder about 10 maybe even 12 weeks after purchase and was initially told 6 weeks.